The Capitals and Maple Leafs went 1-1-1 against the other this season. (Nick Wass/AP)
During intermissions of the Washington Capitals' regular season finale, the players checked in on the Toronto-Columbus game because it would decide Washington's first-round opponent. The Maple Leafs had an early two-goal lead, so it initially looked as if the Capitals would be playing the Boston Bruins in the playoffs. But by second intermission, the game was tied.
When Washington returned to the locker room for a final time, Toronto had lost to Columbus in regulation, 3-2, meaning the Capitals will have the Maple Leafs in the opening round. The series will start Thursday because Verizon Center is hosting a concert Wednesday evening.
View image on Twitter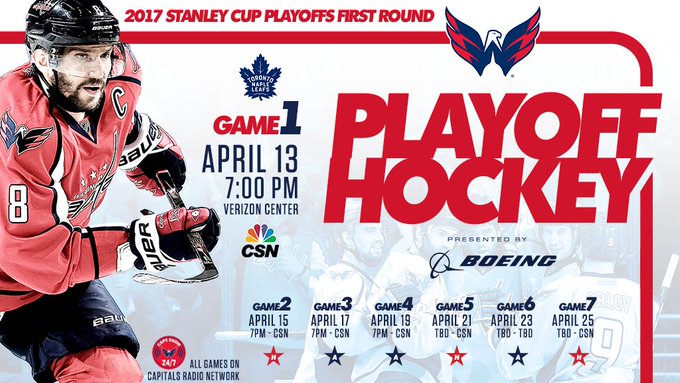 Washington Capitals ?@Capitals

The First Round Playoff schedule is here! Washington and Toronto start Thursday on @CSNMA. See you at Verizon Center! #CapsLeafs #RockTheRed
"I think we've done a good job against them this year," forward Daniel Winnik said. "They're a smaller, skilled team compared to us. I know we're one of the bigger teams in the league, and [the Maple Leafs] try and do a lot of damage in the playoffs."
[Capitals' meaningless season finale has plenty of meaning for Garrett Mitchell]
While Washington was the league's best regular season team last year and a favorite to contend for the Stanley Cup again this season, the Maple Leafs' quick ascension has been a surprise. Toronto was the NHL's last-place team a year ago and drafted Auston Matthews first overall. Now rookies Matthews, Mitch Marner and William Nylander have them back to the postseason.
"They're an improving team," Capitals Coach Barry Trotz said. "They've got a generational player in Matthews, and they've got some young guys and they play hard every night, and they've got speed. … I think it'll be a real great series between two really quality clubs. They're the young, up and coming team, and they've played very, very well and deserve to be in the playoffs."
Washington was 2-1-0 against Toronto, with the most recent game a 4-1 Capitals win earlier this week. Let's look back on how those games have gone:
Nov. 26: Toronto 4, Washington 2: The Capitals' first experience with the young Maple Leafs didn't go well. Toronto got out to a 3-0 lead after a goal from Matthews, and though visiting Washington rallied with two goals in the third period, the team didn't handle Toronto's speed well and was called for five minor penalties. Goaltender Braden Holtby had some harsh comments after the game.
"We didn't look like the Washington Capitals out there at all," Holtby said then. "Completely embarrassed by a young team. It's not acceptable in our culture here. We're going to have to be better. Every one of us. It was completely embarrassing."
Jan. 3: Washington 6, Toronto 5 (OT): Holtby was pulled after the first period, and the visiting Maple Leafs had a 4-2 lead after a wild 40 minutes. But the Capitals tied the game on goals from Evgeny Kuznetsov and Dmitry Orlov in the third period. Marner's goal lifted Toronto to a lead once more, but John Carlson scored to send the game to overtime, in which Alex Ovechkin got the game-winner. That contest seemed to spark a hot two months for Washington as it climbed the standings by going 12-2-1 in January. It also marked a turning point in Holtby's season.
April 4: Washington 4, Toronto 1: The only disappointing part of the game for the visiting Capitals was allowing a late third-period power-play goal to Marner, which spoiled goaltender Philipp Grubauer's shutout. Washington launched 38 shots at goaltender Curtis McElhinney, defenseman Kevin Shattenkirk scored his first goal with the team on a power play in the second period, and the team's depth shined with Tom Wilson and Lars Eller scoring.
"You've got to beat the best at some point, so you might as well do it in the first round," Toronto defenseman Jake Gardiner said Sunday night.